Albany LL Announcement about  COVID-19
Dear Albany Little League,
I hope everyone is still healthy and doing alright. It's hard to believe that we have been under the SIP orders now for 14 weeks. It's good to see that things are opening up more and more, but unfortunately things haven't yet opened up enough. And the virus doesn't appear to be through with us yet either.
This is the message I never wanted to write. On the recommendation of the League's Executive Committee, the League Board of Directors has voted to cancel the 2020 Spring Season. Despite things opening up, we don't have full access, or any access in some cases, to playing fields. And where we do have access, the restrictions of the current SIP prevent "normal" Little League operations. Also, with cases on the rise again, we really don't want to place our League families in any danger.
We believe that canceling the Spring Season will free us up to plan and prepare for an enhanced Fall baseball program that will both satisfy health requirements and provide a safe and fun baseball experience for our ballplayers. It will also free our league families up to decide what's best for their ballplayers in the coming months.
As a result of this cancellation, we of course have some financial housekeeping to do. Nearly all of our operating income comes from registration fees. Unfortunately, we had already spent a significant amount of our registration fees on season start up costs such as field rentals up until the SIP, uniforms and caps, equipment, and field prep and maintenance. Nearly all of these are unrecoverable expenses. And during the SIP, even though we cut back on nearly all activities, we had some continuing monthly utility and maintenance costs. As we look to the future, we will continue to have those monthly costs, though we are working to minimize them as much as possible. We are also concerned about the future and think it prudent to cover our monthly costs through the end of 2021. We also think we should keep some funds in reserve to facilitate our future restart and any unforeseen expenses. Below is a chart breaking down our income and expenses for 2020-2021.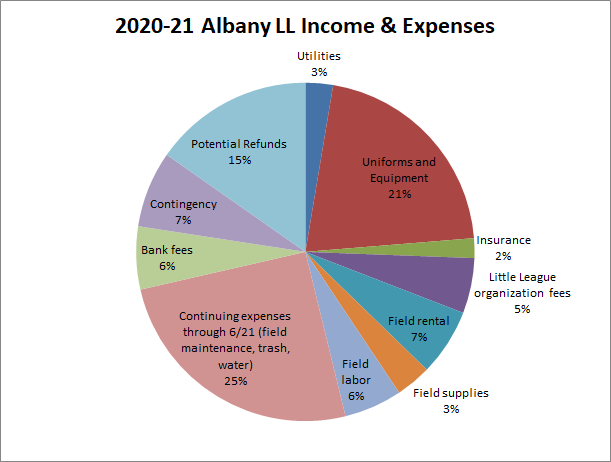 As you can see, past expenses and future considerations leaves us with about 15% of our registration fees that can be refunded. However we recognize that our league families are suffering widely varying degrees of financial hardship. Many of you have already acknowledged this and have kindly communicated a willingness to donate your registration fee to the League. Therefore, we wish to offer you one of two options:
Donate your full registration fee to the League.
Request a refund of 15% of your registration fee.
Please make either request via email to: kidsgame@lmi.net.  We ask that you let us know by Monday, July 13. If we do not hear from you by then, we will assume that you wish to donate your full registration fee to the League. Please note that Albany Little League is a 501(c)3 non-profit organization. Your donation, whether it is your registration fee or the difference between your registration fee and the amount of your refund can be treated as a donation to ALL for tax purposes.  We will send you a letter acknowledging your donation.
For those experiencing a severe financial hardship, please contact me separately at president@albanylittleleague.org. All communication will be kept confidential.
I'm so sorry that we have not been able to hold our Spring Season. I hope that, virus permitting, we can finally get on the field this Fall, or at least for the Spring 2021 Season. Stay safe and stay healthy. I look forward to seeing you all on the diamond sooner rather than later.
Frank Knowles
President, Albany Little League
LLI Season Resumption Guide:
https://www.littleleague.org/downloads/season-resumption-guide/
CDC Decision Tree for Camps and Youth Programs:
https://www.cdc.gov/coronavirus/2019-ncov/community/schools-childcare/Camps-Decision-Tree.pdf
California Reopening Stages:
https://www.gov.ca.gov/wp-content/uploads/2020/04/Update-on-California-Pandemic-Roadmap.pdf