General Umpire Information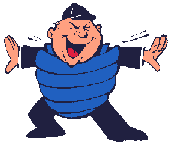 Finding officials is a challenge for many youth leagues Albany Little League is no different. For many years we have relied primarily upon paid youth umpires but as our league has grown, it has become increasingly difficult to staff games just with youth umpires.   For this reason we are adding umpiring as a way for parents to fulfill their volunteer requirement.
For those who want to umpire to fulfill their volunteer hours or just for fun, umpiring offers the following benefits:
You'll receive excellent training

You'll learn the finer points of the game

You'll have the best view

You'll get your very own umpire gadgets: clicker, cap, and brush

You'll fulfill the volunteer hours requirement

You'll get a free hot dog & drink at the snack shack after each game you umpire!!!